Finally realizing that somebody must come up with a more comprehensive plan to combat P2P and file-sharing concerns than merely lawsuits alone, the What's The Download Interactive Advisory Board (WTDIAB) unveiled "What's The Download Music Survival Guide today at CMJ Music Marathon in New York City.
The WTDIAB was created by the Recording Academy (Grammy Awards) and is made up of 12 music fans and several high-profile music creators and industry veterans who
serve as honorary Board members.
The 12 music fans are 18 to 24 year olds "…who were selected from hundreds of applicants by The Recording Academy through a process which consisted of an essay, video application and telephone interview." Additionally, they are said to be from all over the country, (and) have diverse tastes in music." Their names include:
Matthew Annerino, Chicago, Ill.
Jill Apelgren, Boston, Mass.
Bahareh Batmanghelidj, Los Angeles, Calif.
Brittany Frey, Murfreesboro, Tenn.
Andy Guerrero, Denver, Colo.
Robbie Halperin, Charlotte, N.C.
Joy Mitchell, Los Angeles, Calif.
Christie Osborne, San Diego, Calif.
Brian Vickers, Washington, D.C.
Spencer Williams, New York, N.Y.
David Wurzburg, San Francisco, Calif.
Katherine Zimmerman, Philadelphia, Penn.
What isn't said about all of these young adults is what their stance is on file-sharing, or even their usage habits thereof, nor are the characteristics of their musical tastes and listening habits. For all we know they could be 12 young fans who have either never used file-sharing software or are ardent devotees of the Billboard Top 10. Is there a Sub Pop fan or BitTorrent user among them? The answer is unclear, making their motives suspect, but, their results are surprisingly frank and honest.
Joining these young adults are Honorary Board Members comprised of high profile music artists and industry veterans. They include:
Chris Brown, R&B/pop artist
Eric Garland, CEO, BigChampagne
Shirley Halperin, entertainment editor, US Weekly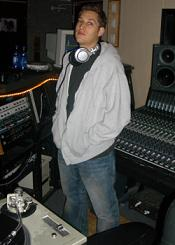 Sway Calloway, reporter, MTV News
Kelly Clarkson, Grammy Award-winning American pop rock singer and actress.
Common, hip hop artist, 2006 Grammy Awards nominee
Earth Wind & Fire, six-time Grammy winner, and twenty-time nominee
JD Natasha, Latin Pop musician
Mark McGrath, lead singer of rock band Sugar Ray
Kanye West, six-time Grammy Award-winning American producer/rapper
Now the interesting part of the report develops as it showcases the two years that the 12 member panel spent interviewing and collecting the thoughts and opinions of artists, songwriters, producers, executives and even their peers. The results they receive are as diverse as the people they speak with.
What file-sharers have to say on the matter is pretty much what we've all heard for almost a decade now. Yet, it still takes another study, this time one that is 2 years in the making, to arrive at the same conclusion: CDs just cost too much.
A senior at Auburn University also comments how "Music is grossly overpriced. I'm trying to support myself and pay rent, so I rarely have extra money to spend on music." He goes on to say:
I know that people aren't getting paid when I bootleg their music but if I couldn't download it for free, then I just wouldn't get it because I can't afford to pay for it. It's not like they missed out on a sale, because I would not purchase it anyway.
A 22-year-old Nashville resident said that he downloads his music off of the internet and notes "Why should I pay $15 for a CD when I can get it online for free?"
So in each of these cases it appears to be a matter of affordability, especially among students, the biggest users of file-sharing software. How can they be expected to shell out 20 bucks for CD all of the time if they don't have the financial resources to do so? Instead of lowering the prices for CDs the only thing music companies seem to do is plan to have "exclusive content" on them to make them more alluring. I don't think a Kanye West video clip or a Kelly Clarkson desktop wallpaper will do the trick.
Now what do the artists have to say about file-sharing? We've all heard about Lars Ulrich and his loud battle cry against Napster years ago but, since then he has been countered by other artists who make the point that file-sharing is sometimes a good thing.
Linkin Park, the Grammy-winning rock band, comments:
Downloading is funny because everybody's got their opinion. It works differently for different artists. Most established artists think it's more dangerous. But especially with young aspiring artists, especially unsigned ones, you know downloading is a great way for them to be able to get their music out there. In fact, I have a new project called Fort Minor, it's a new hip-hop project and downloading has been a big part of our group kind of getting off the ground, you know. So, it's different in every situation. It's kind of like, from one thing to the next, take it as it comes.
Many artists simply don't have access to the capital and the means to get their music published and released to consumers in the traditional system of the recording industry. many artists, like the Arctic Monkeys for instance, bypassed music publishers altogether and used the internet and word of mouth to get their music out to consumers. Neither would like to see their music acquired for free but, initially the internet and P2P software can serve as a great tool to give a band the exposure it needs to succeed.
As Sean Paul, reggae rapper, also notes the way that file-sharing and P2P has helped him to gain exposure that he wouldn't have gotten otherwise. He writes:
I think that [digital downloading] has really gotten a lot of people to know me. Web sites alone  people sometimes bounce on the Web site when they have never heard my songs and check them out, so I think it does help people to get to know my work. Also it's like a test. They will download one song, then they might download another one and then they might want to get the album because it's good stuff. I use it. I think it's an advantage.
Again we see an artist who has benefited by the new way in which music is shared over the internet and P2P networks. He makes a good point that maybe not everybody will buy your album, instead just grabbing it entirely for free of the Pirate Bay for instance but, others will. There are those that will want the tracks in a high quality .WAV or .FLAC format that just may not be found on BitTorent's OINK, Shareaza, or Limewire. You are much more likely to benefit from the exposure as a newcomer than you are to be harmed by it. How else are people to hear about all the up and coming artists when there are currently no mediums for them to do so? Terrestrial radio died some time ago, and with it the ability of artists to get their tracks "in rotation" and get noticed by the public. Now that they have "Jack FM" and virtual DJs that do little more than spin the top 20 in incessant rotation, the public has looked elsewhere to seek out new and exciting music. P2P networks and file-sharing software are just the medium everyone has been looking for to do just that.
There is also the issue of the music industry's decades-long history of taking most of artist profits for themselves.
DJ Splyce, electronica DJ, comments:
I have pretty controversial viewpoints on [digital downloading] for an artist. I think of music now more as a business card than anything else, honestly. I just recently played in Istanbul in Turkey, and I had 7,000 or 8,000 kids at a show and half the people there came up to me with CDRs and tracks of mine that they burned. I think that we place so much importance on the sort of dollar transaction between music and a consumer that we're losing sight of the fact that in actuality in a traditional record label model, a record label gobbles up 87 percent of the goods and they keep you strung along enough so you never make any money anyway. So, I think what's happened actually is about to topple this incredible behemoth and start a new model where artists are actually interacting directly with their audiences. And I think that's a very positive thing.
I am reminded of the recent story of Gnarls Barkley, where even though the song "Crazy" was leaked on the internet late in 2005, it still made millions for the group, thanks in large part to that very exposure. It not only topped the UK Singles Chart before its actual release, where it stayed for nine weeks to make way for its second but, also became the first single to top the UK charts on digital download sales alone. It was so successful in fact, that the band and the record company decided to remove the single from UK stores and online so people would "…remember the song fondly and not get sick of it."
So what does this say about file-sharing? It means that it can truly allow artists to break through the fortress gates that the music industry has long guarded and put their music directly in the hands of their listeners. The music industry is slowly becoming little more than a CD pressing and PR machine, both of which too grow irrelevant.
The "Music Survival Guide" goes on to retell the same tired story about all of the horrible economic losses that the industry has suffered over the years. Oddly left out is the economic losses suffered by millions of consumers over the years who have had to shell out 20 bucks for a CD with maybe one or two good tracks on it. I still remember the very first CD I bought back in 1990. It was Living Colour's "Cult of Personality" and cost me about 22 bucks at Tower Records. What I didn't know at the time was that the song "Cult of Personality" was the only decent one on it. 20 bucks, one good song, and its been the same for many albums for years now. Yet, I don't languish in remorse over my economic losses, I simply found a better method to select the albums I purchase. The music industry should take heed of this and find a better way to sell them. The decades it spent ripping off its artists and relegating many of them to lives of poverty as they raked in millions, also jades my sense of sympathy for their reduced cashflow.
The report also retells an assessment by David Goldberg, general manager of Yahoo! Music, is that "…music is going to be completely digital over the next 10 to 15 years." So my question is that if they know this then why does the music industry continue to stall and delay the inevitable?
DRM is another tool that the music industry has used for copyright protection, often with mixed results as programs like FairPlay allow users to strip the protections and regain control over the music they purchased. DRM has often irritated consumers to the extant that they often refuse to purchase music that has it and actively seek out unprotected formats. Consumers develop a "why pay for it" attitude if they never really have control over the product that they made pains to purchase in the first place. Apple's iTunes is one of the worst offenders in that not only can you not play purchased music on portable media players other than their iPod but, copying and sharing capabilities are also limited. You may have bought the song yet it never seems to be truly yours at all.
So what are the solutions? Bono, in his Rock and Roll Hall of Fame induction speech, scolded the music industry and said that "…U2's success was due only to their producers' unwavering dedication to the band's development." He furthers:
The bottom line is the music industry needs to commit to artist development and the fan needs to commit to supporting artists financially. If the industry wants to win back that financial loyalty of fans lost to illegal means of obtaining music, major labels should work with an artist to cultivate his or her talent, rather than casting an artist aside after a commercially unsuccessful release, if for no other reason than the loss of a potentially legendary artist.
The report then makes startlingly sensible conclusions of its own:
The bottom line is, we need to embrace new music avenues. Labels as well as artists should take the time to interact online with their fans in the interest of developing an artist-fan relationship that will entice fans to support artists monetarily. If major labels are looking to generate artist loyalty, they should ensure that artists make attempts to let the fans into their lives via written or video Web logs or live online chats; or by encouraging membership in fan clubs and street teams, offering incentives such as special track releases or advanced ticket sales. The music industry should use the technological advances of the Internet to create a sense of locality, and the feeling of membership in a musical community despite the national or even international scope of the music.
…people are hungry for music, and they are eating it up from many different sources. If retailers and artists do not offer music consumers what they want, when they want it, they will turn to other resources, whether it is illegal P2P sites or a friend's computer burner. In order to compete with copyright infringing P2P sites, record labels, artists, and publishers need to make every sound and video recording available and easily accessible for purchase. In return, technology companies must resolve the issues surrounding compatibility and interoperability among portable devices and downloading services. Over time, consumers will like the security of downloading or streaming music off a legal site, receiving quality recordings and product, and having the instant gratification that they want and must have. If consumers are offered all these things and much more, they will move reject the harmful and unstable illegal P2P sites and once again support the artists they love.
So the theme seems to be that a new found embrace of technology must be adopted or things will continue to languish as they are. I'm sure us music fans could've saved them this two-year effort and told them the exact same conclusions even longer ago. But, as most of our criticisms and suggestions for the music industry go, they fall on deaf ears. Of course we prefer downloading music from file-sharing networks because of its convenience and interoperability. We also don't mind paying for it if its at a price that's reasonable and well distributed. Who wishes to pay for music when they know that 82% doesn't even go to the artist anyways? Starving executives don't make for very good poster boys against file-sharing.
In the end, the authors concluded by developing "7 Music Survival Tips" which summarize the points made in the report. They are as follows:
7 Music Survival Tips
#1: Educate to Eradicate Piracy
"Unaware of the large number of people who collaborate to make a record, many consumers have turned to illegal file sharing as a response to the high price of music, believing that they are not hurting all of the 'rich' musicians. They simply do not understand the ramifications of their actions."
#2: Make Music Retail Therapy
"Sometimes when you go to a record store, you bump into a record. You bump into people that may hip you up to records. It's a whole other experience. And we need that journey. It's important that as artists we take time to dig, to see the roots of where everything is coming from so that we can offer it to the fans, and they all can offer it to the next generation."
#3: Declare a Music/Tech Truce
"Simply put, the industry does not make it easy for consumers to purchase and use digital music online legally, while piracy delivers what companies hold back. Digital music is a vital force in the industry and technology needs to be properly embraced to provide ease of use to consumers."
#4: Commit to Artist Development
"If the music industry wants to win back the financial loyalty of fans lost to illegal means of obtaining music, the major labels should work with artists to cultivate their talent, rather than casting an artist aside after a commercially unsuccessful release."
#5: Embrace New Music Avenues
"If the music industry hopes to survive, it must embrace the new face of musical community to reach out to potentially dedicated fans. Labels as well as artists should take the time to interact online with their fans in the interest of developing an artist-fan relationship that will entice fans to support artists monetarily as well."
#6: Offer What Piracy Doesn't
"So how can companies drive illegal file sharers to legal Web sites? This is something many are struggling to figure out, and there is not one clear answer or solution. However, if legitimate Web sites and online companies want to continue to grow, they must offer what piracy cannot."
#7: Make Music a Priority
"More people are discovering more new music and a greater variety of music than ever before. There are tremendous challenges facing traditional music businesses, but for artists and fans this is an incredibly exciting time. One day, we will look back on this period in music history as a kind of Internet adolescence a confusing, sometimes awkward transition that in the end leaves us stronger, smarter…and a little less innocent."