Seeks to increase the reliability of finding what you are actually looking for by checking for viruses, password, DRM, and more.
Vertor (VERified TORrents) is a new generation BitTorrent tracker site that provides users with links to verified torrent files. All the torrents it collects are checked for viruses, passwords, DRM protection and more. It also provides preview screenshots for all video and image files.
"All the files there are 100% verified and safe to download!" reads the site.
One of the hardest things about downloading from public tracker sites is trying to figure out what's legit and what's not. A lot of times you have to rely on the comments from other people or look at the share-ratio. One seeder with 50 leechers is never a good sign.
With a complex software/hardware system hosted on five dual-core servers with 8 GB RAM each, Vertor constantly downloads and verifies torrents. That means every torrent file available on Vertor is checked for downloadability, viruses, DRM and passwords.
How Does Vertor Do It?
We get a torrent file and put it on our server for download. If the download doesn't start after a series of attempts we mark it as "download error" and do not place it in the overall database. If the download has completed successfully we check contents of the file and post the information about the torrent file and its contents:
If there is an archive in a torrent file, we decompress it and make a filelist. If there is an error in the process, we mark the file "protected" and do not not place it in the overall database.
If there is a video file in a torrent, we make screenshots of it. If the video is protected by DRM, screenshots will be blank.
If there is an audio file in a torrent, we cut out small pieces of it for users to make sure the file has prescribed qualities.
If there is a text description in a torrent file, we save it so users can read it before down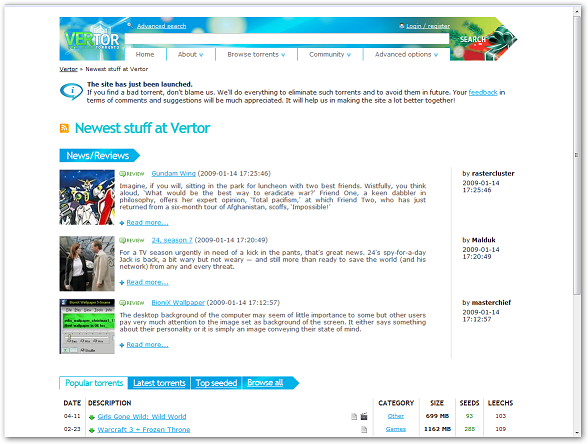 As of right now Vertor has processed over 400,000 torrents of which 256k had download errors, 130k have been successfully verified, 2800 had viruses, 5400 were password protected, and another 11k were blocked by moderators. So their servers are definitely hard at work to try and save you some hassle! It's a service that's definitely worth bookmarking.
Why does Vertor do it?
"The project is devoted to make BitTorrent protocol even more popular, easy-to-use and reliable!" it says. "We have other reputed on-line projects that make enough profit to invest a small part of it in this experiment. Our plan is to develop Vertor more and not to place any advertisement at least for the nearest one or two years. We want to make it as convenient for you as possible!"
So if you're looking to take some of the guesswork out of trying to find out what's legit or not, Vertor's the place for you.