Easy step-by-step user's guide that will help you start downloading movies, music, TV shows, and more in no time at all.
Vuze, formerly Azureus, has launched a new 4.0 version that takes BitTorrent downloading into exciting new directions. Vuze 4.0 sports the lighter look and feel of older versions while adding new functions and features that set it miles apart from other available BitTorrent clients.
"Find, download, and play" is the new Vuze motto and it defines the spirit of Vuze 4.0. When it comes to finding content it still offers the Vuze HD Network, but it also offers a new subscription feature as well as the stunning ability to support custom templates for private BitTorrent tracker searches. So in addition to community-generated content feeds you are now able to include your private BitTorrent trackers in your search results! After downloading content you can then watch or listen to it without having to launch a separate media player program.
So let's get started.
INSTALLATION
1. Download and install the Vuze BitTorrent client.
Now if your operating behind a router, please check out our guide on PORT FORWARDING. Briefly, Port Forwarding is basically opening and establishing a dedicated or open port for Vuze to use in order to download and upload data to and from other BitTorrent users.
Select "NAT/Firewall Test" from the Help menu.
First select "Configuration Wizard" from the Tools menu.
This will bring up the NAT / Server Port dialogue box. This box will allows us to both select and test a port for Vuze to use. Remember, the range of recommended ports to use is from 49512 to 65535, and the selected port must be forwarded if operating behind a router. As you can see in the picture, I used port 49513 and then TESTED it. Since it came back "OK!" I then APPLIED those settings.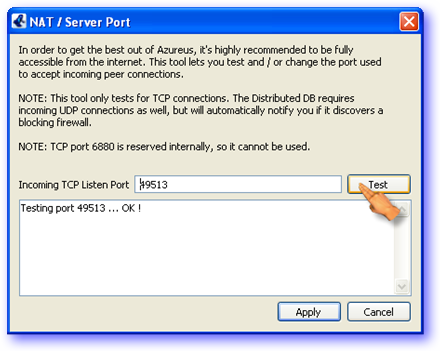 Select "Configuration Wizard" from the Help menu.
For User proficiency select "Intermediate."
Now perform a quick speed test of your Internet connection and select the closest corresponding upload speed from the drop down menu as shown below.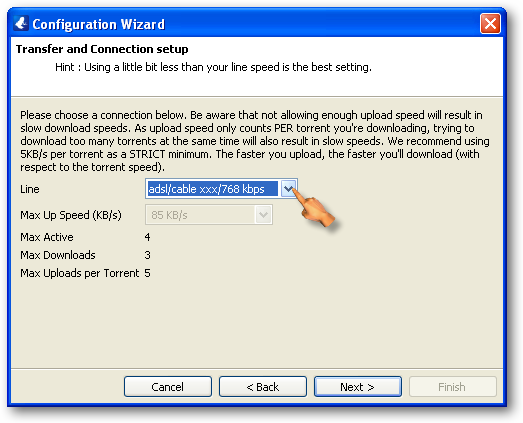 4. Save Path
Finish the installation by determining where you wish to save your downloaded content.
Downloading Content
1.Vuze HD Network
Vuze offers a large and diverse selection of content in HD to choose from. From animation to movies, from sports clips to TV shows, it has something for everyone.
To download content simply select the "Download" button for the desired item.
You can then play your selection from within Vuze by simply double-clicking the item.
2. Private BitTorrent Tracker Search
This is hands down my favorite new feature in Vuze 4.0. Previously, if you wanted to find content you had to search through any number of individual private tracker sites. This could be cumbersome if you have to regularly look through several or more sites as is usually the case.
Select "Add/Edit."
Then select "Import a New Template."
It's up to the Vuze community to create the custom search template required for each site, but as time goes by and users do, it'll be possible to login to all of your private BitTorrent trackers and then search through them all from one location. Think of it as a sort of "super search" (I've managed to acquire ones for BitMeTV.org, Pisexy.org, Waffles.fm, and What.cd and have made them available for download HERE).
Unlock each by logging and entering your username and password.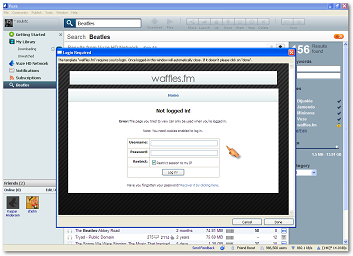 When successful the icon will change from a lock to a blue checkmark.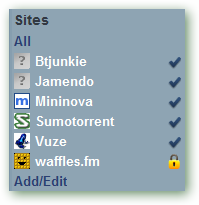 Your search query will then include results from your private BitTorrent trackers.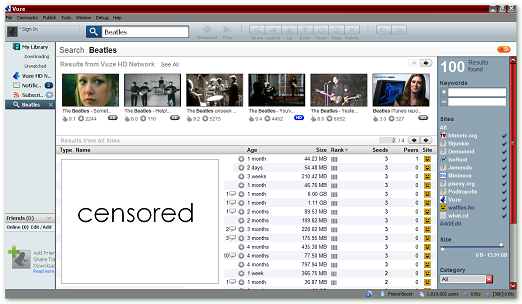 The new subscription feature enables users to request that specific content be sent to them automatically.  Just click the orange Subscriptions button associated to content in your Library. You can set your subscriptions to download automatically, or simply to notify you when new items are available.
The big innovation here is that these subscriptions are initially created by users (usually power users) and then made available to everyone.  As users create new subscription templates over the coming weeks and months, this feature will get better and better, as the cloud of community-created subscriptions grows.  Ultimately, Vuze Subscriptions remove a lot of the complexity associated with RSS for torrents, which tend to return lots of unwanted or duplicate results. Just click Subscribe!
Here's an example of one I created myself for the Beatles.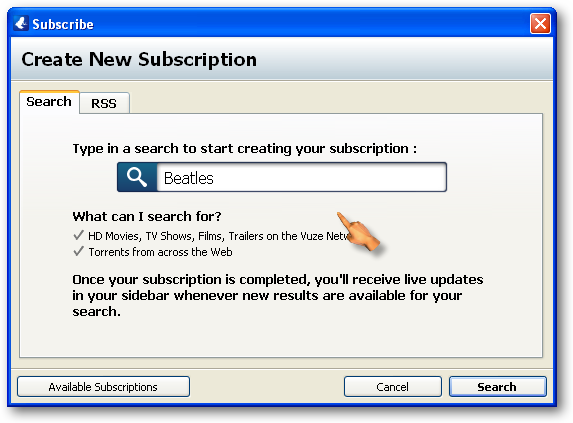 Choose which site you wish to search through.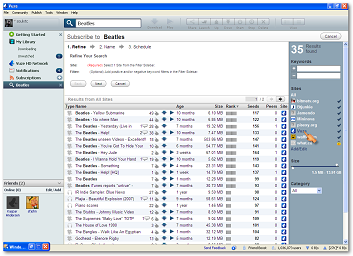 Choose a name for your subscription.
..and how often to search for it.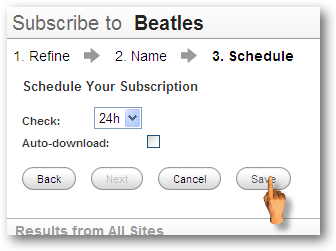 Now there's many other Vuze features to discuss, specifically plugins and publishing content, which I plan to discuss in the days to come.
Stay tuned.