Refocuses on "core usability by revamping the user interface" while adding new features like subscriptions and an integrated search capability of both public and private BitTorrent trackers.
Due to be released this Wednesday, the latest version of the Vuze BitTorrent client is definitely impressive. Vuze 4.0 sports the lighter look and feel of older versions while adding new functions and features that set it miles apart from other available BitTorrent clients.
"Find, download, and play" is the new Vuze motto and it defines the spirit of Vuze 4.0. When it comes to finding content it still offers the Vuze HD Network, but it also offers a new subscription feature as well as the stunning ability to support custom templates for private BitTorrent tracker searches. So in addition to community-generated content feeds you are now able to include your private BitTorrent trackers in your search results! After downloading content you can then watch or listen to it without having to launch a separate media player program. Vuze truly is an all-in-one BitTorrent application.
I had a chance to ask John Fernandes, VP for Vuze Product and Marketing, a few questions about Vuze 4.0 and this is what he had to say.
1. What were some of your primary goals with Vuze 4.0?
Our single biggest goal with Vuze 4.0 was to evolve the product into an all-in-one bittorrent application that enables people to Find, Download, and Play high-quality videos.  And especially, we wanted it to be a powerful, easy-to-use  application that people would fall in love with.  For us, that meant we had to simplify and streamline the client's navigation, and fully integrate our awesome bittorrent client with the newer Vuze HD Network.
And in addition to improving the client's design and usability, our goal was to add advanced functionality to give experienced bittorrent users even more reasons to use Vuze.
2.  What user concerns with the 3.0 version most affected the process of creating 4.0 and why?
This release has been directly inspired by user feedback.  We've surveyed our users in multiple ways, talked with them on the phone, and watched them as they used the last version of Vuze client, as well as prototypes for this new one.  We've talked to power users, casual users, and non-users.  All of that is reflected in this release.
In talking to our users, we've had to recognize that previous UI was keeping us from doing that effectively.  It was confusing and a little schizophrenic with core torrent functionality they loved hidden behind an "advanced tab", and new features bolted on in odd places.
In response to the user feedback, we've done a few things.  First and foremost, we've tried to have the application reflect our core functionality, and that's what you'll see across the top of the global toolbar:  Find, Download, and Play.  Second, you'll see an intuitive left-nav framework that users have responded to extremely well, since it provides direct and persistent access to all of the product features.  And finally, you'll see improved category navigation within the Vuze HD Network, to enable our users to browse directly to the types of content that interests them.
In terms of functionality, there are two key things experienced users will appreciate in this release.  First, there's the new subscriptions functionality that I describe in more detail below.  And second, there's now private tracker login support for the meta-search functionality that we launched back in June.
3.  Will Vuze try to make the creation of custom search templates for other tracker sites, PRIVATE ONES in particular, easier for those unfamiliar with "regular expression" or JSON? Where do you recommend users go to find ones currently available from the BitTorrent community?
Our business goal is to get users to watch Vuze HD Network content (that's how we make money), so Vuze can't vouch for or endorse custom search templates created by the community for sites outside Vuze.  However, if Vuze users are seeking search templates, we'd recommend they do a Google search for "Vuze Search Template" and read as much as they can about any template before downloading it onto their computer.
4.  Memory usage has always been one of the biggest concerns of BitTorrent users. How, if at all, is Vuze addressing the issue?
We know memory usage is a concern, and it's something that I am happy to report we are working on. In this release we've focused on core usability by revamping the user interface. In our next releases, we'll be addressing the memory usage issue, so stay tuned J.
5.  What is your vision for the future of Vuze, what can we expect, and why do you think BitTorrent users should select it instead of one of the others currently available?
We want Vuze to be the #1 application in the world for Finding, Downloading, and Playing high-quality broadband video, and we have some exciting plans in place to get us there.
Bittorrent users should select Vuze because it is an easy-to-use and incredibly powerful, all-in-one bittorrent application.  There is nothing like it in the market.  And over the coming releases, we'll be improving ease of use, reducing the memory footprint, and making Vuze even more powerful than it is today by adding core functionality that users have been wanting for years. More to come on this later this year.
6. How do the new subscriptions work?
The new subscription feature enables users to request that specific content be sent to them automatically.  Just click the orange Subscriptions button associated to content in your Library. You can set your subscriptions to download automatically, or simply to notify you when new items are available.
The big innovation here is that these subscriptions are initially created by users (usually power users) and then made available to everyone.  As users create new subscription templates over the coming weeks and months, this feature will get better and better, as the cloud of community-created subscriptions grows.  Ultimately, Vuze Subscriptions remove a lot of the complexity associated with RSS for torrents, which tend to return lots of unwanted or duplicate results. Just click Subscribe!
7. Anything else you'd like to mention?
We're very excited about this new release and look forward to getting it into our users' hands.
So what does Vuze 4.0 look like? Let's take a look.
As I mentioned before, one of the first things Vuze decided to do with the 4.0 version was to "…to go back to a lighter look and feel, more inspired by the classic interface."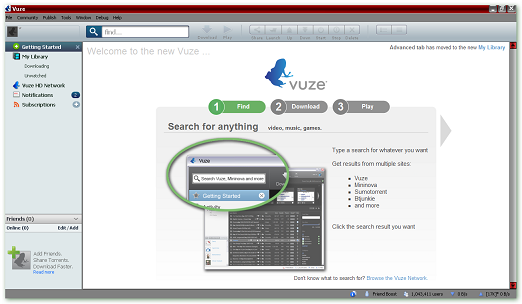 They removed the confusing Advanced tab and streamlined it so that finding, downloading, and playing content is easier than ever. Important features like active downloads are now accessible from a simple sidebar as shown below.
Content is King and Vuze 4.0 makes huge strides with its meta-search by amazingly adding login support for private BitTorrent trackers. Now you can include search results from some of your favorite sites like Waffles.fm or BitMeTV.org alongside Mininova and the Vuze HD Network. It's up to the Vuze community to create the custom search template required for each site, but as time goes by and users do, it'll be possible to login to all of your private BitTorrent trackers and then search through them all from one location. Think of it as a sort of "super search" (I've managed to acquire ones for BitMeTV.org, Pisexy.org, Waffles.fm, and What.cd and have made them available for download HERE).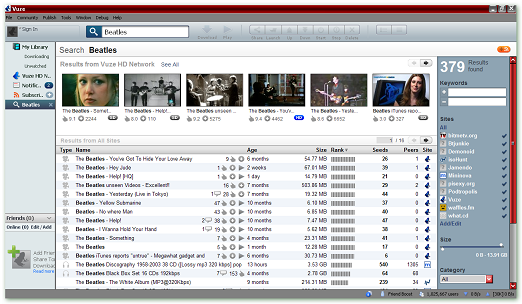 Select individual BitTorrent trackers from the sidebar to separate your results.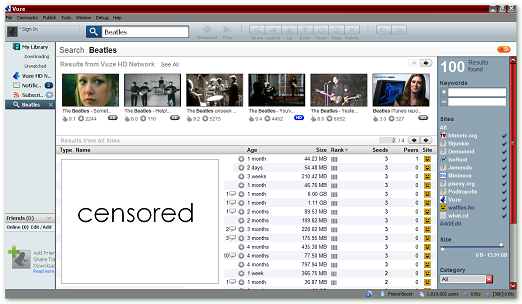 It's also worth mentioning that I've noticed memory usage seems to be slightly better with Vuze 4.0 than previous versions. It use to consume about 120MB of RAM and now hovers between 90 and 100MB. It doesn't compare to uTorrent's 14-20MB, and I don't expect it ever will, but with awesome new features like private tracker meta-search, community subscriptions, and a built-in media player, "finding, downloading, and playing" may just be what's really most important after all.