Early "alpha" build makes it way to BitTorrent tracker site The Pirate Bay before its imminent public release.
Mac users have a new BitTorrent client to test drive this morning with news that an early "alpha" build of uTorrent has been leaked to The Pirate Bay.
"An internal development build of uTorrent for Mac has been leaked publicly," BitTorrent's VP of Product Management, Simon Morris, said in response to the leak. "It [is] an "alpha" quality build. We did not intentionally release this build and would strongly recommend folks not to use it as it isn't yet complete or stable enough to be released to the public."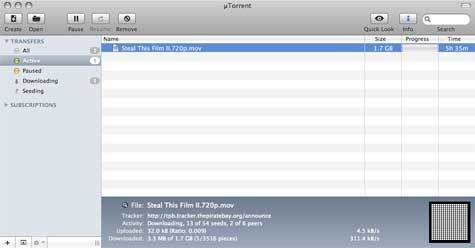 So far it appears the release is largely functional with the exception of the search feature.
"I wouldn't say it's fully featured," writes one early reviewer. "It's a nice client and excellent for an alpha. Don't expect it to replace your current client though."
It's still a ways from a public "alpha" release, but as expected, looks very Mac-like, and reportedly runs better than its Windows counterpart.
"The good part [of this leak] is that this is a testament to the fact that we're serious about releasing uTorrent for Mac in the near future (And counter to recent rumors, this is indeed the uTorrent code-base ported onto OSX, not just Libtorrent with a Mac UI)," continues Morris. "Hopefully more news coming soon. We have a sign-up page on the uTorrent website."
Stay tuned.
ALSO READ…Top 5 BitTorrent Clients for MAC