File-sharing program offers live on-demand streams for more than 3,000 movies and TV shows, a Live Radio feature offering more than 1,000 live radio stations, and a Game Player providing access to more than 1,000 games, all while downloading content.
Not all of us are on the BitTorrent bandwagon. Many still use direct connect type programs for their simplicity and ease of use. MP3 Rocket is one of those programs and it's arguably head and shoulders above many out there thanks to its numerous options and features that make the P2P application a one-stop entertainment destination.
It has the standard file-sharing capacity for downloading videos, music, etc. using the Gnutella network to locate files.
MP3 Rocket has developed a "Most Popular" feature that allows users to vote for and locate the most popular music, movies and pictures as ranked by other MP3 Rocket users. Popular files are determined by actual real time user votes.
It's new '100 Most Popular Artists' application lets users vote (unique for each P2P file hash) on their favorite performers, and the software automatically displays in the 'most popular' artists by week and month allowing for easy downloading of favorite songs, and allowing users to share their favorite bands, singer-songwriters, comedians, and other performers with their friends.
However, t also several features that, as I said, make it a desktop entertainment center as well.
MP3 Rocket offers live on-demand streams for more than 3,000 movies and TV shows, a Live Radio feature offering more than 1,000 live radio stations, and a Game Player providing access to more than 1,000 games.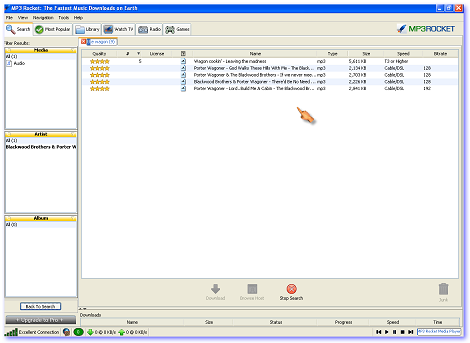 The first is video streaming. Users can watch a number of live feeds from CNN, Fox News, the Discovery Channel, ESPN, Spike TV, and Comedy Central among others. It also offers on-demand streaming from the Cartoon Network, the Discovery Channel, the History Channel, HBO, and more.
MP3 Rocket also links to sites with quality video streaming content like HULU, QuickSilverScreen, and XOXO Online for example.
The second feature worth noting is radio streaming. You can choose from a number of different stations that include reggae, 80s,70s, DJ mixes, country, oldies, latin salsa, and many, many, more.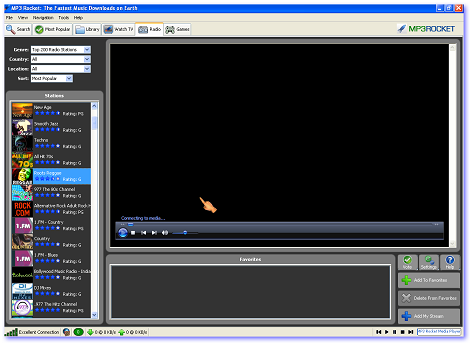 The third feature is gaming. Users can pick from a list of over 40 games to play and geek out on.
Again, all of the features I mentioned are playable without having to exit the program and WHILE your downloading content. File-sharing programs like KaZaA or Limewire can boast such a capability.
The TV, radio and game streams also utilize this "most popular" voting feature to improve the user experience.
As for the usual concerns of adware or spyware, other than being asked to install a toolbar during installation I have seen nothing to be worried about.
Developed by LimeWire, MP3 Rocket has adopted and improved upon the file filtering technology known as TigerTree, which blocks "fake files" and spam files from the enemies of files sharing and spammers.
The new "TigerTree" hash technology blocks spammer's fake files, such as those containing spam, viruses and Trojans. The TigerTree Spam filter works by storing information about files, where search results can be filtered by keywords, size, verified SHA-1 hashes or even IP address. Information about what is spam is gathered through two methods:
the user marks which results they find to be fake, and
the software automatically keeps track of items commonly found in search results.
Both of these measures are used to give each file a rating and once this rating goes over a certain threshold, the file is flagged as spam. The filter is designed to learn by storing information. When a search is conducted, the user can block certain results by key words, size, verified SHA-1 hashes and/or IP address. Taking this information, the filter will then begin to learn by creating spam profiles. If a future search result fits a malicious profile, the file is labeled as spam.
In short, for those looking for a simple and easy way to download content and find entertainment in the process, MP3 Rocket may just be the file-sharing program for you.