Added Friends get bandwidth priority and search bar is now fully customizable to include BitTorrent tracker sites in the search engine.
The clear leaders among BitTorrent clients are without a doubt uTorrent and Vuze (formerly Azureus), each having their own distinct characteristics among which users then decide is best suited to their needs. For uTorrent it's the simple interface and low memory usage. For Vuze it's the availability of a lengthy of list of plugins to choose from and the inclusion of content selection from within the client itself. But, today Vuze releases a new updated beta version that takes the BitTorrent client to interesting new heights that may make the choice between the two all the more difficult for some.
For today Vuze releases v3.1 beta which adds two new features which, in this reviewers opinion, really put it head and shoulders above uTorrent and all the other BitTorrent clients.
What? I must be crazy right? How can this be?
Well, the first is the new "friends" feature which allows you to not only share torrent files, and thus content, effortlessly with other users of your choosing, but also to give them "Friend Boost" which gives them bandwidth priority in connected swarms.
The second is that the search box now allows you to modify it and add results from other popular BitTorrent tracker sites outside of Vuze. 
"Friends"
Sharing torrents
To share torrents with your chosen "Friends," download the file first or create or a torrent tracker for content already on your PC.
Then go to the Dashboard and in your content Library select the desired torrent. Click on the Share icon at the bottom of your Activity tab or right-click and select the same option.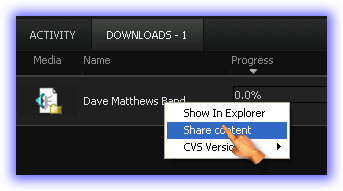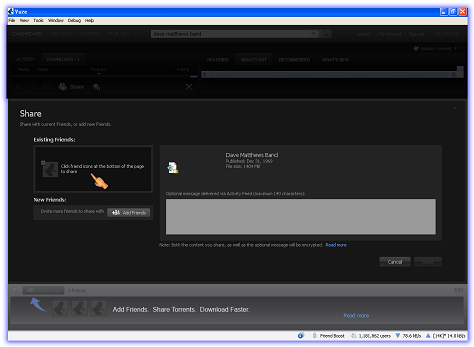 Either click Share with all, or on an individual user icon, and finish by selecting "Send."
"Friend Boost"
Bandwidth priority is given to all of your "friends" in a given swarm.
When you are downloading content you will see whether or not you are being boosted by looking at the bottom of your screen. If you are being boosted a light will appear next to "Friend Boost" right at the bottom of the window.
Customizable Search Bar
Type any piece of content that you would like to download in to the search box. For the example below I used Dave Matthews band since they are open to the sharing of their content so long as one doesn't profit from the process.
You will then be prompted to "add popular sites" to your search engine.
As you can see, Mininova, SumoTorrent, Jamendo, and BTJunkie were then added to the list of searched sites. You can add other sites by creating custom templates that include their given search URLs.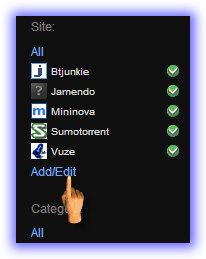 You can further refine the results list in the left hand navigation bar by using filters based on text, file size, tracker site, or type of media.
Click on the torrent file you want to download and the actual page from that site with the download link will appear in the client.
Moreover, the new Vuze 3.1, to say it plainly – is pretty darn cool.
The ability to quickly and conveniently create swarms of friends who you can easily share content with is perhaps the greatest new feature of all. I don't think "Friend Boost" will be of particular importance being that I'm sure most rarely download the same particular piece of content at the same time or regularly cross paths in seeding/leeching situations. One could create a group of "super friends" who frequent a particular site, but then it would create a sort of caste system of "in" people and "out" people.
The customizable search bar helps to make Vuze a sort of one-stop shopping destination so that one may never have to really leave the client in order to find, download, and share content.
Drawbacks of Vuze 3.1? The usual – memory usage.
Vuze sucked up about 150MB of RAM compared to uTorrent's relatively benign 0.6MB, so depending on your setup you may have to choose accordingly.
Either way I like where Vuze is headed. It's created a sort of destination center and social networking platform that makes the BitTorrent client all inclusive.
Verdict? Thumbs up.
DOWNLOAD VUZE 3.1 BETA

**NOTE: Public downloads won't be available for about an hour from the posting of this story (1pmPST)**