Shows creators said they "got really sick of having to download our own show illegally" and so wanted to give themselves and others a legal alternative.
Today South Park Digital Studios LLC, the joint venture between "South Park" creators Trey Parker and Matt Stone and Comedy Central, a division of MTVN Entertainment Group, have announced the launch of the new southparkstudios.com, which will feature free, streaming, full-length episodes and clips from the entire 12 seasons of the Emmy and Peabody Award-winning animated series.
The site, which rolled out a beta version last Wednesday, has already received over three million page views, over two million video plays, and more than a million streams of full length episodes.
"The 'South Park' phenomenon began as a viral video clip. Now it continues its digital and creative leadership with the launch of an extensive site devoted entirely to 'South Park,'" said Doug Herzog, president, MTV Networks' Entertainment Group. "Southparkstudios.com is a true representation of Matt and Trey's vision and is the ultimate online destination for 'South Park' fans — allowing them full access to every 'South Park' episode ever created."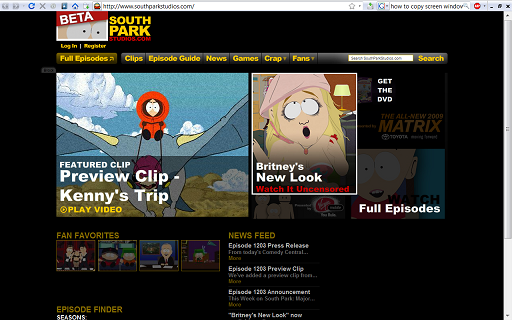 When asked about the launch of the new site, Stone and Parker said, "We got really sick of having to download our own show illegally all the time so we gave ourselves a legal alternative."
Nice to see they decided to acknowledge what the rest of us have been doing for some time – grabbing shows from P2P and file-sharing networks or watching them on illegal video-streaming sites that give fans the alternative to watching it on their TV at a designated time chosen by broadcasters.
Anne Garefino, General Manager of South Park Digital Studios, had this to say about the future of southparkstudios.com, "One goal in moving forward is to make every episode of 'South Park' available world-wide. Currently, full episodes are not available in the UK, Australia and a few other foreign territories but we're not far off from making that happen. We have some contractual issues to sift through but we're getting there."
Southparkstudios.com will offer fans an all new "South Park" digital experience. The new site will allow fans to watch full episodes and clips of every "South Park" episode. Of all 169 episodes in the "South Park" Library, 168 are available today. Due to contractual obligations, all new episodes will be available as soon as possible after they premiere on Comedy Central and remain available for seven days. These episodes will return to the site permanently 30 days after they premiere. The site will also features extensive video and behind-the- scenes information from all 12 seasons allowing users to see all their favorite "South Park" moments, comment on them and share them with friends.
As a fan of the show myself, post Scientologist nutcase "Chef," aka Isaac Hayes, I must add, the news is definitely a welcome one. For the only drawback to illegal sites is that they are usually victims of poor quality video or plastered with ads and popups that mar the viewing experience.