'Anonymous' Internet group fed up over its repeated efforts to censor the internet has launched an effort to shut down the "Church's" site.
The Church of Scientology was quick to go after YouTube last week after a user dared to upload a leaked video of Tom Cruise's now infamous crazed rantings about Scientology. Much to the delight of viewers, in the creepy indoctrination video Tom Cruise babbles about the glorious KSWs, PSTs, something called "shatter suppression," and how he apparently knows more about how to treat roadside accident victims than paramedics or other trained medical personnel.
The "Church," which is always quick to go after those that dare mock or criticize it, immediately sought to have YouTube and other sites remove the video.
(For those that have yet to see it)
In response to this flagrant assault on online freedom of speech the "Anonymous" Internet group on the Insurgent Wiki decided to fight back with Project Chanology, the main goal of which is to "…enlighten the Church of Scientology (CoS) by any means necessary."
A spokesperson said that the group's goals include bringing an end to the financial exploitation of Church members and protecting the right to free speech, a right which they claim was consistently violated by the Church of Scientology in pursuit of its opponents.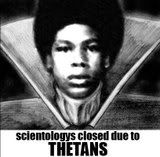 "This will be a game of mental warfare," reads a description on it's site. "It will require our talkers, not our hackers; it will require our dedicated Anon across the world to do their part."
Anonymous' members cited several reasons for their actions against the Church of Scientology: many have stressed the alleged human rights violations under the auspices of the Church. Others accused the Church of fraud due to its costly ceremonies, while some merely sought the entertainment they refer to as "lulz," a corruption of the Internet slang "LOL," or "laugh out loud."
Most members, however, were concerned with the threat to free speech that the Church posed. This was most evident in the recent attacks on websites such as Digg and YouTube, where the Church filtered anti-Scientology comments and replaced their content with the text "[This comment is no longer available due to a copyright claim by Church of Scientology International]."
"The so-called Church of Scientology actively misused copyright and trademark law in pursuit of its own agenda," one Anonymous commented. "They attempted not only to subvert free speech, but to recklessly pervert justice to silence those who spoke out against them."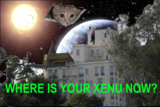 The Church of Scientology's legal struggle with its online detractors began in 1994 with the Usenet group "alt.religion.scientology", a community which spoke out against the Church. Legal representatives from the Church confronted them specifically over the use of Scientology in their name, citing trademark infringement and misrepresentation. This led to numerous lawsuits, and the group was shut down. The Church of Scientology later found itself in several further conflicts on the Internet, including some with popular websites such as Google and Slashdot, as well as an alleged "war" with users of the website YTMND.com.
Writing in a blog post, Matthew Ingram of The Globe and Mail dubbed the ongoing conflict involving the Church of Scientology's attempts to remove the Cruise video from the Internet: "Scientology vs. the Internet, part XVII". He characterized the conflict between the Church of Scientology and anonymous posters of the Cruise video as "another small skirmish in a war that Scientology has been waging for almost 15 years, since the early days of newsgroups such as alt.religion.scientology, which posted internal church documents in 1994. Lawsuits have been filed, mailing lists have been shut down, homes of discussion group participants have been raided and their computers seized — an all-out war."
"Prompted I think by the Tom Cruise video, a new obsession is taking hold on the internet," writes an anonymous blogger. "[It's] An insurgency against The Church of Scientology."
Several websites relating to the Church of Scientology have been slowed down, brought to a complete halt or seemingly removed from the Internet completely in an attack which seems to be continuous.
The group of hackers have also released a video on YouTube called a "Message to Scientology" in which they state their intentions with their attack on the Church of Scientology. A robotic voice on the video begins with "Hello leaders of Scientology. We are Anonymous," and continues by explaining their motivations.
It states:
Over the years we have been watching you, your campaigns of misinformation, your suppression of dissent and your litigious nature. All of these things have caught our eye. With the leakage of your latest propaganda video into mainstream circulation the extent of your malign influence over those who have come to trust you as leaders has been made clear to us. Anonymous has therefore decided that your organisation should be destroyed." The message goes on to state that the group intends to "expel Scientology from the Internet".
Watch it here……."Message to Scientology"
I'm glad to see that more and more people are willing to stand up to the "Church" of Scientology and its heavy handed anti-free speech tactics. Hollywood seems to be running scared of Tom Cruise and company and so its nice to see at least one group of people, anonymous or not, has dared to fight back.
With baby Suri rumored to be spawned from the seed of Scientology founder himself L. Ron Hubbard, it just may be that the "Church" is circling the proverbial wagons until L. Ron Hubbard Jr. hits puberty.
On a lighter note, actor Jerry O'Connell has posted a hilarious spoof of Tom Cruise's nonsense on Funny or Die.com.
Here it is……
**UPDATE: The groups has posted a response to the media coverage, or lack thereof, of The Church of Scientology and its efforts to stifle the freedom of expression.