Fans of Showtime's dark, edgy, creepy, and all around fascinating original series get an early Christmas present this year with the leak of this season's remaining 2 episodes.
I can't say enough about how good Showtime's "Dexter" is, and so to just find out that the 2 remaining episodes for this season have been leaked to BitTorrent has suddenly made for an exciting evening to say the least.
Without spoiling to much for those that have yet to "Dexter" disciples, I can honestly say that Season 2 has been far better than I expected it to be at the start of the season. The finale of season 1 seemed to break all boundaries and it made for perhaps an impossible feat for the next season to even come close to comparing to.
"Dexter" was just that good.
Then season 2 came along and any doubts I may have had were immediately dashed as I watched Dexter flirt with "normalcy," but then pleasantly come to his senses and take up his work keeping the streets "safe" once again.
It has done anything but disappoint.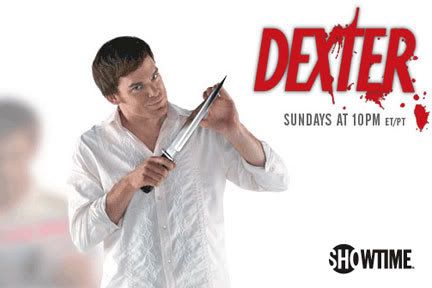 In any event this season's remaining 2 episodes have been leaked to BitTorrent and I'm dying to check them out.
**BTW, if you don't want to wait for them to download, or would simply prefer an easy alternative, QuickSilverScreen has both up right now for your streaming pleasure.**
HERE ARE LINKS TO EACH > EPISODE 11 —– EPISODE 12
Here's a synopsis and screenshot of each episode:
11. Left Turn Ahead
Scheduled air date: 12/9/2007
Dexter must make a massive decision that will have an effect on all those he holds close. Lila meanwhile is back with a secret to blackmail Dexter.
12. The British Invasion
Scheduled air date: 12/16/2007
The Task force believes the Bay Harbor Butcher case is closed, but Dexter still has some trouble to deal with.