A list of great TVLinks alternatives that allow you to watch your favorite TV shows free online.
UPDATE: Check out Zeropaid's directory of TVLinks
With TVLinks down and out for the foreseeable future, I've taken the time to compile a list of alternatives so you can continue getting your fix of free TV shows and movies.
If you have any other sites you think merit being included in this list please list them at the bottom in the comments section or e-mail me at the address below.
This one is a great TV-Links alternative with a growing selection of Movies, Tv Shows, Anime and Comedy clips. Be sure to bookmark tvshack.net!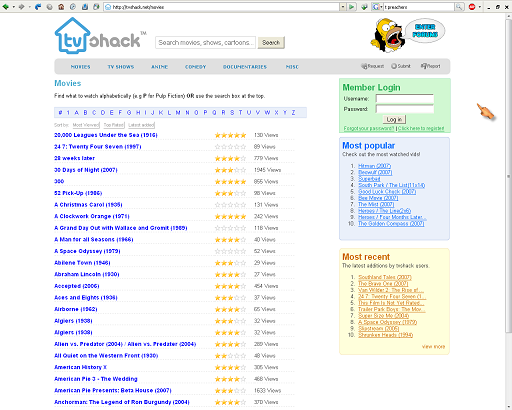 This one's all about TV shows and sports a nice collection of different titles.
Has a wide variety of both TV shows as well as movies. Coolest part is that it has links to old TV shows like "I Dream of Jeannie," and "Silver Spoons." Probably the best streaming link site I've come across so far next to QuickSilverScreen.
Probably the most popular one around, and that's because it actually hosts the content you watch. Everything on it is of superb DIVX encoded quality meaning none of the grainy stuff you may encounter elsewhere. The only drawback is that this means you won't fins any of the new CAM movies here, but many of you probably won't care.
Great place to check out flics. Routinely updated with the latest and greatest from the box office and all titles play nicely in the Firefox browser.
Offers both TV shows and movies to watch, both of which are updated on a regular basis.