A workprint of the much anticipated horror flic makes it way to BitTorrent tracker sites everywhere.
Following in the footsteps of "Sicko," "Hostel 2," and a number of other movies, a workprint of Rob Zombie's upcoming remake of John Carpenter's "Halloween" horror classic has been leaked to BitTorrent tracker sites.
Not due to hit movie theaters until August 31st, it first appeared on several private tracker sites early this morning, and already people are lining up in droves to grab a copy before its official release date.
With TorrentSpy now blocked to US visitors, SuprNova.org may now become the go-to public BitTorrent tracker indexing site, and already it looks as though it has a copy of this "Halloween" workprint already up and available.
After having proved himself a worthy horror movie director with the film "The Devil's Rejects," Rob Zombie was given the helm to direct this classic from the horror film genre.
For those of you who are unfamiliar with the plot of "Halloween," here's a brief synopsis from IMDB.
The residents of Haddonfield don't know it yet… but death is coming to their small sleepy town. Fifteen years ago a small six year old boy called Michael Myers brutally slashed his elder sister to death. Locked up till his 21st birthday, he escapes the mental institution that held him for fifteen years and makes his way back to his hometown intent on a murderous rampage pursued by Dr Sam Loomis who is Michael's doctor and the only one who knows Michael's true evil. Elsewhere a shy teenager by the name of Laurie Strode is babysitting on the night Michael comes home… is it pure coincidence that she and her friends are being stalked by him?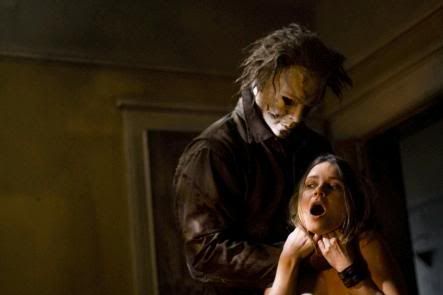 UPDATE:
Here's a few screesnhots I obtained from a friend of mine for you to take a look at.