Public BitTorrent tracker site makes it easy to find out what a movie's all about by including a trailer of each movie in the search query results.
FlixFlux is a relatively unknown BitTorrent site that I myself had never even been aware of, which is not so surprising considering the number of preexisting tracker sites and the number we see added each day.
FlixFlux is a public BitTorrent tracker site that aggregates multiple other sites into a single query search engine.
Though not exactly groundbreaking by any means it does incorporate a few interesting features that help set it apart from others and make it unique its own right.
The first feature is the way that torrents for the top movies of the US and UK Box Office Film Charts are displayed on the homepage. This makes looking for and grabbing the latest and greatest from movie theaters as easy as a few clicks of the mouse, providing a convenient way to find movies you've been wanting to see, and also to find other releases you had yet to hear of.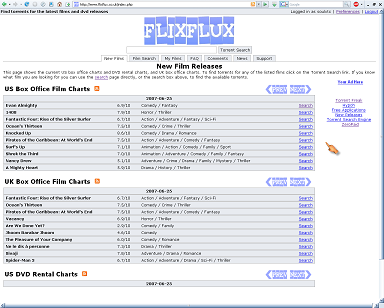 The second is the way that a trailer for these top Box Office movies is included in the search results and allows visitors to take a quick peek at what each of the movies listed is about. There are always movies being released that we never hear or have a chance to learn of the plot which makes them unique and worth watching. The trailer feature makes previewing new movies fast and convenient and may also just help you avoid the hassle of downloading a movie that may have sounded better than it actually looks.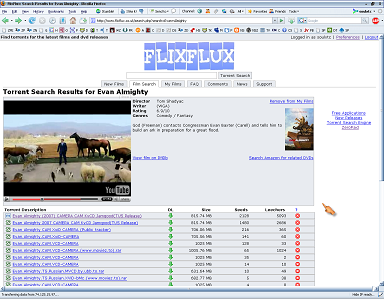 Moreover, if you're looking to download the best of what the movie theaters have to offer on this side of the pond or the other, FlixFlux makes the process convenient and easy, just the way file-sharing was meant to be.