Everybody loves watching movies for free, especially when it's easy, involves no P2P or BitTorrent downloading, and you can actually find something worth watching.
I've written before about how Peekvid, Movin Flicks, and Junk Nova are a few of the many good places to find movies to watch for free on-demand but, I've never really mentioned TV Links and it's movie section, which I honestly consider to be the best around.
TV Links isn't just an awesome site to find TV shows like The Sopranos, The Simpsons, Entourage, Lost, you name it, it also has probably the best selection of old and current movies to watch you'll find anywhere.
It's updated almost daily, and usually is quick to post links to new movie releases within a day or two of their appearance on P2P and file-sharing networks.
A few examples are the recent Spiderman 3, Pirates of the Caribbean 3, and Ocean's Thirteen, all of which debuted on the site within a day or two of their theatrical release. Not too shabby for a streaming on-demand site right?
The added beauty is that it's of course a streaming video link site, meaning that for all of you either too afraid to download content from P2P or file-sharing networks or can't because of network monitoring or throttling, TV LInks lets you bypass all these concerns to leave you with a nice, relaxed, and FREE movie watching experience(popcorn not included).
CHECK OUT TV LINKS MOVIE SECTION
**To refresh on a few other sites that offer movie downloads and streaming, I've posted a few other handy links below. Enjoy.
1. PeekVid
2. Movin Flicks
3. Junk Nova
Not really my first choice when it comes to watching free movies on-demand due to all the popups but, selection-wise it just can't be beat.
Some of the newer releases include: Little Miss Sunshine (as shown below), Apocalypto, and Clerks 2.
It's the selection of titles that really does make the site worth checking out, that and the fact that all the movies are of DVD quality, unlike some sites which sometimes stream CAMs that can oftentimes be quite difficult to sit through.
This one probably ranks as my favorite for the simple reasons that it has no popup ads whatsoever, and has a relatively new as well as classic selection of content to choose from that is updated regularly.
The selection of content is more limited than that of PeekVid but, the lack of ads makes it well worth it.
Also, the site has content that is far more current than that of PeekVid, though this does mean they are CAMs boys and girls (Oscar Season's over remember?).
Some of the titles include: Blood Diamond, The Prestige, Breach, The Number 23, and Ghost Rider (as shown below).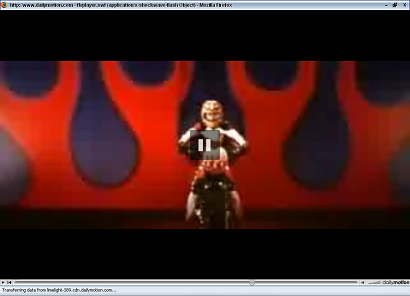 Rounding out the list of sites is Junk Nova, a recently discussed BitTorrent tracker indexing site that takes all the guesswork out of finding the movies that you want to watch.
Rather than having to do all of the legwork yourself when it comes to finding out the details of popular movie content to download out there, Junk Nova lists all the important data like screenshots, movie poster, full description, cast, genre, etc., making it a one stop shopping center for BitTorrent movie downloads.
If you're familiar with how to use BitTorrent, Junk Nova's the way to go, and if you're not we have an easy to use, step-by-step beginners guide on how to get started using BitTorrent available for you to read here at ZeroPaid.