On the road and wish you had your music? Does your friend's music library suck? Well, Winamp just got a little bit cooler with the new Remote BETA feature that allows you to stream your PC's music files via the internet browser of you choice.
Anybody who listens to music on their home PC will tell you that Winamp is one of the better media player programs around. From it's relatively small memory footprint (4,000 K for myself at the moment), to it's wide variety of plugins, visualizations, and enhancements, Winamp is a great program to have when it comes to playing music files on your home PC.
But, what if you aren't at home and you still wish to access your home music library without having to setup any complicated FTP or remote access clients or programs? What if you're using somebody else's PC or laptop and all you have is a browser and internet connection? Well, Winamp Remote BETA let's you listen to all of your music anywhere, anytime without having to worry about any of this. Just leave the plugin running when you leave home and then simply login using a browser and connection from wherever you like.
Its perfect for when you're on vacation or wanting to grab some decent tunes at a friends house whose collection is filled with one too many country-western or death metal albums.
SO HOW DO I GET STARTED?
1. Install Winamp
First of all, if you haven't already, download and install the Winamp media player (it's pretty self-explanatory)
2. Install the Winamp Remote BETA plugin.
Next download and install the Winamp Remote BETA plugin, the steps of which I detail for you below.
Here is where you will create a USER ACCOUNT NAME and PASSWORD with which you will you be using to login to your PC remotely.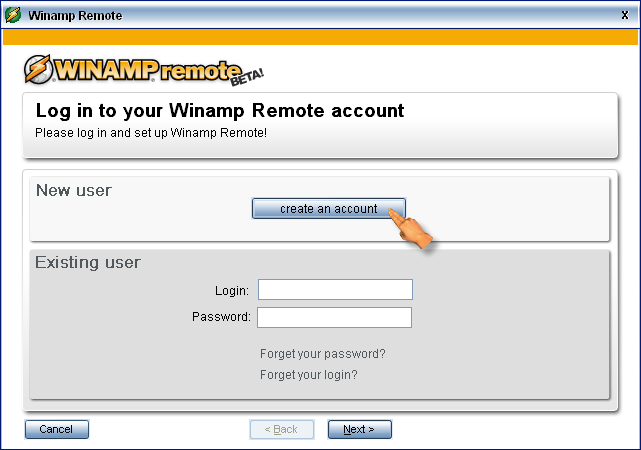 Be sure when selecting your username and password that they are SECURE as well as easy to remember so as to prevent against unwanted users from accessing your PC.
**PASSWORD SECURITY HINT: A trick I learned a while back that is pretty brilliant I think, is to combine 2 easy to remember words into a single, virtually undecipherable one. For example > CAT & DOG = C+D+A+O+T+G. You simply intertwine the 2 by offsetting their order. Pretty neat right? Who will ever think that CDAOTG is you password?**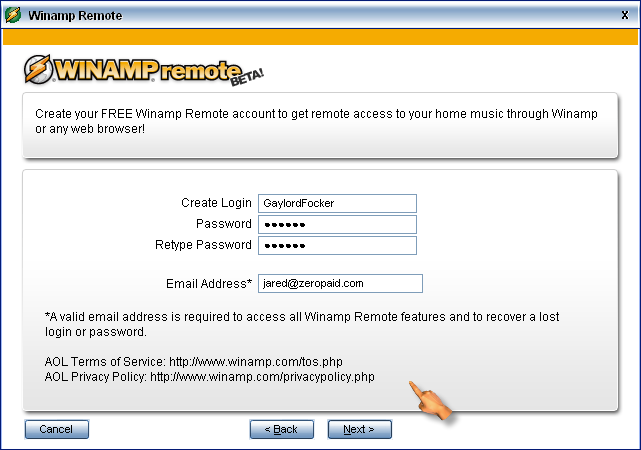 When done then select the "Next" tab and submit the information you entered.
WHAT DO I DO BEFORE I LEAVE MY HOUSE?
CHECK PLUGIN STATUS

First of all, before you leave home, make sure the Winamp Remote BETA plugin is running. You should see the icon displayed in the system icon try at the bottom left-hand part of your screen. This is what acts as the remote server allowing you to access your PC.

HOW DO I CONNECT?
1. Go to http://www.orb.com/winamp/index.html
2. Log in
Lastly, type in your USERNAME and PASSWORD and select the "Sign In" tab.
HOW DO I LISTEN TO MY MUSIC?
Once logged in, the user interface is pretty straightforward.
The left-hand part of the screen will list the directory of your home music library. This will be the "My Music" folder on your PC (C:Documents and SettingsAdministratorMy DocumentsMy Music).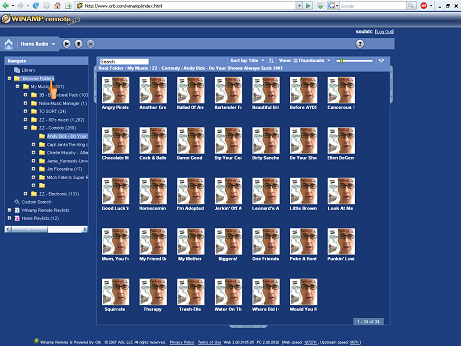 Scrolling through my "Comedy" music selection, I selected the new Andy Dick album "Do Your Shows Always Suck." Double-click on the track you wish to play, as I have done as shown below.
This will automatically launch and load the track in the Winamp media player.
IS THAT IT? IS IT THAT EASY?
Pretty much. Winamp Remote BETA offers a few other options like streaming video and picture viewing but, they are both still too complicated and buggy to recommend for you here. When they become better supported I will let you know.
In the meantime enjoy Winamp Remote BETA. Now you can take your music library with you everywhere,