Today Napster and AT&T announced that they had agreed to a deal to provide some of the top US phone company's wireless and high-speed Internet customers with free digital music.
Beginning Sunday, April 1, AT&T customers across the company's nationwide wireless footprint with "qualifying plans," as well as across the company's traditional service footprint with qualifying wireless, home phone, and broadband triple-pack bundles will get a FREE one-year subscription to Napster's "Napster To Go" music service.
The offer will enable consumers to "…access their favorite songs across multiple screens, including the PC, the wireless screen and other compatible music devices," thereby building on the company's effort to deliver anytime, anywhere access to enhanced content.
"By tying Napster To Go to AT&T's robust communications network, we're turning up the volume nationwide on both consumer value and added convenience," said Rick Welday, chief marketing officer of AT&T Consumer. "Merging communications with entertainment — in this case, linking Napster To Go's rich library of music to our wireless and broadband services — again shows that we are committed to delivering enhanced content across key screens both at home and on the go."
"This exciting promotion will introduce Napster To Go to an audience that is eager to enhance their AT&T devices and services with a robust and exciting music experience," said Chris Gorog, chairman and CEO for Napster. "We are pleased to be working with AT&T and to have the opportunity to present Napster across AT&T's lineup of communications services throughout the nation."
The offer is available to qualifying new or existing AT&T wireless customers outside of the AT&T local service territory who agree to a 2-year wireless agreement with purchase of the SYNC phone by Samsung($49.99), which is exclusively available through AT&T wireless, or the BlackJack phone by Samsung with qualifying data plan plus a Music Kit/Card.
It will also be available to qualifying new and existing residential AT&T customers across the company's entire 22-state traditional service footprint where broadband service is available, with any of the following triple-pack bundles:
Add AT&T Yahoo!(R) High Speed Internet service (Express service or
higher) or FastAccess(R) DSL Ultra to existing home phone and wireless
service with AT&T.
Add the SYNC phone by Samsung, exclusively available through AT&T,
formerly Cingular, or the BlackJack phone and any of four qualifying
wireless plans with a two-year term, including Cingular Nation, AT&T
Unity(SM), Family Talk(R) or an additional Family Talk line, to
existing high speed Internet service (AT&T Yahoo! High Speed Internet
or FastAccess DSL) and AT&T home phone service.
The free service is worth about $180 USD to AT&T customers annually , as the Napster To Go service costs about $14.95 USD per month. Now whether it's worth 15 bucks is beyond me, I have yet to hear of specific content selections that are made available on the service but, it's definitely worth hassling with if it's free.
I have a feeling this may be Napster's way of trying to gain some relevance in the digital download market by exposing it to consumers who may otherwise not be inclined to do so. I mean, would you pay $15 bucks a month for tracks that you are essentially renting, that "expire" and become inoperable if you stop paying the monthly fee?
For those of you who may be unaware of how Napster to Go operates, the monthly fee guarantees you unlimited song downloads, though in a copy-restricted format that can be played only on Windows XP and "Napster certified" portable music players. The songs "expire" whenever you stop paying the monthly fee. This new partnership notes as much, saying that "An active subscription is required to play tracks downloaded from Napster To Go after expiration of 12 month free period."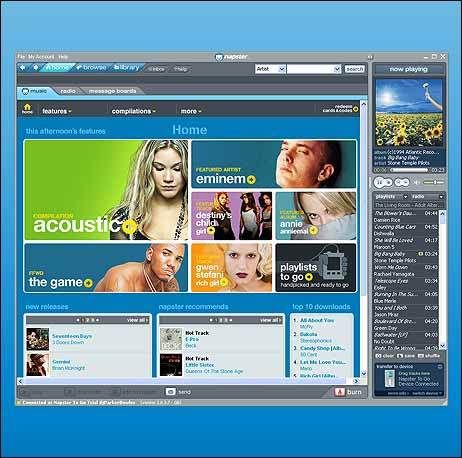 For those of you who already have AT&T service of some sort, or for those on the verge of selecting an ISP or wireless carrier, then perhaps this may be the sort of deal that sways your decision. After all, it is free. But, for the rest of us it will probably only serve to remind us of how awful the "Napster to Go" model is. I mean as time goes on and you have paid more and more money into their pockets, at the end of the day you don't own a darn thing.
digg_url = 'http://digg.com/tech_news/AT_T_customers_to_get_free_Napster_To_Go_for_a_year';
RELATED NEWS AND "HOW TO" GUIDES:
3 Quick Ways to Watch Movies for FREE!
3 quick ways to watch TV shows for FREE
BitTorrent tracker sites & search engines
Azureus – A Beginner's Guide to BitTorrent Downloading
uTorrent – A Beginner's guide to BitTorrent downloading
Watch The Simpsons, The Office, Jackass, South Park, Lost, X-Men, and More On-Demand For Free
SOULXTC: "walkin' the streets of P2P"