In a sign of things to come, nearly 123 million people in the US, some 70% of the total online population, watched an online video of some sort in the month of January.
The duo behind Joost correctly surmised some time ago that the future of television will really be the internet via online streaming. People want to watch what they want, where they want, and when they want. It's that simple.
With our lives increasingly filled with such a wide array of entertainment choices to choose from, be it videos games, music, movies, you name it, the TV is forced to compete for precious time just like anything else.
Well, comScore, a "leader in digital media measurement," recently released a report detailing the US streaming video market from its Video Metrix service.
In January of this year, nearly 123 million people in the US, some 70% of the total online population, viewed more than 7.2 billion online videos. The average person streamed some 59 total videos, nearly 2 a day. Most of them are apparently of the YouTube variety as the average viewing time per video is 2.6 minutes.


Google Sites was ranked as the top streaming video host, as measured by "…total unique streamers (54.7 million) and total video streams initiated (1.167 billion)." Of the sites which Google owns and maintains, YouTube, of course, was by far the largest as it accounted for some 992 million of the total number of video streams initiated.
In another piece of interesting data to note, the "primetime" hours for video streaming activity occurred between 5 and 8 p.m.. Considering that traditional TV primetime hours occur between 8 and 11 p.m. there is a huge potential for broadcasters to be able to essentially DOUBLE their primetime viewer ship and marketing audience.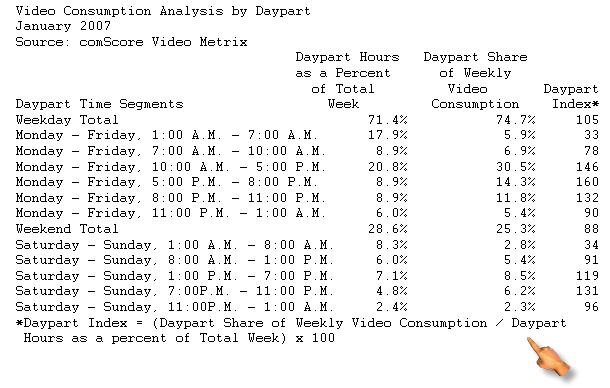 Some networks, particularly ABC which was the first to do so, have started to embrace online streaming of their primetime shows, and this data now proves just how savvy the decision was after all. The data shows that not only is there an established demand for streaming content but, that more than an amazing 2/3 of the country now make up this new and emerging market. I guess this ends all the doubts people may have had about Joost once and for all.
digg_url = 'http://digg.com/tech_news/STUDY_70_of_the_US_regularly_watch_online_videos';
RELATED NEWS AND "HOW TO" GUIDES:
Viacom gets "JOOST" up P2P style
TVU, Free P2P Cable TV
3 Quick Ways to Watch Movies for FREE!
3 quick ways to watch TV shows for FREE
BitTorrent tracker sites & search engines
Azureus – A Beginner's Guide to BitTorrent Downloading
uTorrent – A Beginner's guide to BitTorrent downloading
Watch The Simpsons, The Office, Jackass, South Park, Lost, X-Men, and More On-Demand For Free
SOULXTC: "walkin' the streets of P2P"