First in a series of ZP "How To" guides that will teach you how to find TV programming to watch on-demand or via BitTorrent download so that you can watch your favorite TV shows whenever you like.
With the ever increasing amount of TV shows available to watch on TV, it has become even tougher to try to view them all. With a ridiculous 500+ number of cable channels available to us its surprising that some shows are even watched at all.
The rise in popularity of foreign UK-based shows such as "Dr. Who," "Torchwood," "The Office," and others, has only hastened the need for time-shifting capabilities.
Unfortunately not everyone has a DVR or TIVO available to them, so arises the need for alternative time-shifting capabilities.
There's a whole number of ways that one can get TV content from the internet and onto their PC but, to keep it simple we'll be limiting it to 3 of the best methods here for you in this guide.
1. TV Links
2. Peekvid
3. Torrent Episode Downloader (TED)
My personal favorite amongst all of the existing "on-demand" viewing sites, TV Linksmakes finding and watching your favorite TV shows as easy and painless as possible.
With a few simple clicks you can find almost anything and everything you'd want to watch.
What makes the site particularly nice is that it is virtually AD-FREE and thus loads like a dream.
Offerings on the site include all of the standard favorites, and the list is updated almost daily.
Some of the more popular fare available includes, Battlestar Galactica, The Simpsons, 24, Lost, Torchwood, Prison Break, and Jackass.
This site's not bad. I wouldn't call it my personal favorite but, there are others who do.
The site's filled with popups and ads and can really drive you crazy if you're not using Firefox as your internet browser.
Other than these few shortcomings the site is pretty well laid out and provides a set of TV show link alternatives if for whatever reason they become disabled on TV Links.
It too provides some of the more popular TV show fare like Battlestar Galactica, 24, Lost, Prison Break, and Jackass but, doesn't have shows like The Simpsons or Torchwood available.
Moreover, I'd mark this as a backup site to TV Links, as it doesn't have as much TV content available and is filled with ads and popups.
Torrent Episode Downloader (TED)
This for the more advanced users out there, the ones who are already familiar with how to use BitTorrent to download content and programming.
It basically centers around using a program called the Torrent Episode Downloader, or TED for short.
The program is a sort of RSS utility for your preexisting BitTorrent client server, searching for shows by title and episode using default RSS feeds that can be customized to your liking.
To use the utility do the following:
Select the "New Show" tab.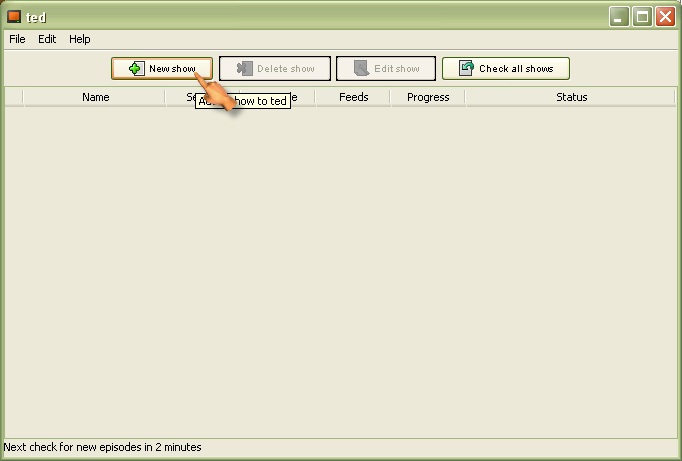 Next choose the show you wish to download. As you can see I selected "30 Rock," a super hilarious show starring Tina Fey, Tracy Morgan, and Alec Baldwin, which is really worth watching if you haven't already.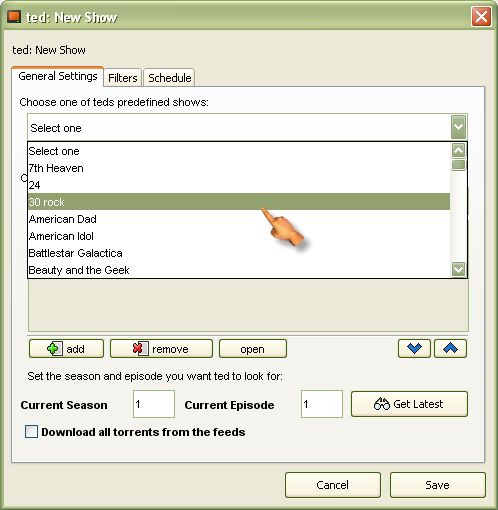 It will then show the default RSS Feeds it will be using to download the particular TV show you selected. The sites are of course public tracker sites, which don't always have the latest episodes or a plethora of seeders to guarantee quick download times. Thus, if you select the "add" tab you can add an additional RSS Feed from whichever private tracker sites you are a member of and augment the ability to get the content you desire.
As far as individual series are concerned, you can see the "Current Season" and "Current Episode"boxes at the bottom of the dialogue box. Here you can pick a show by season and episode simply by entering the numbers particular to your request.
The nicest function is the "Get Latest" tab towards the bottom right-hand part of the dialogue box. Pressing it will make it retrieve only the the most latest aired episode that is available. A very nice feature if you're unsure what the number of the current episode is.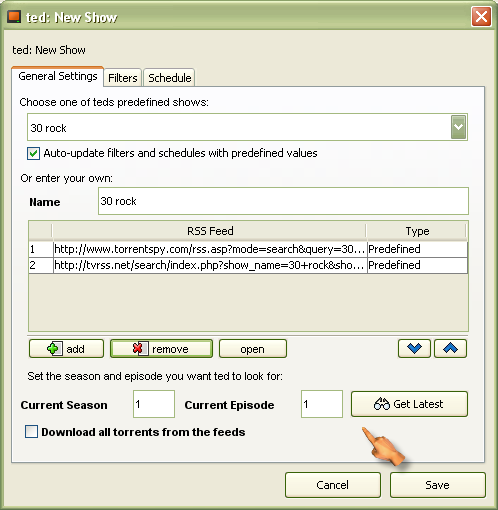 As TED finds the shows you requested it will automatically load the torrents into your BitTorrent client server and being downloading the desired content.
As it finds the shows you selected it will show the progress of its search in its main menu, with your BitTorrent Client Server showing the actual progress per download.
Overall, Torrent Episode Downloader is a great tool to use for acquiring TV content. Granted it's not as quick and easy as using TV Links but, if you're looking to actually download the content it's the way to go.
DOWNLOAD THE TORRENT EPISODE DOWNLOADER
In short, these 3 methods will allow you to watch the TV shows you want wherever and whenever you like. With such a relatively high number of interesting TV programming available to watch these days, this is about the only way you'll ever get to watch it all.
digg_url = 'http://digg.com/tech_news/3_quick_ways_to_watch_TV_shows_for_FREE';
RELATED NEWS AND "HOW TO" GUIDES:
BitTorrent torrent sites & search engines
Azureus – A Beginner's Guide to BitTorrent Downloading
uTorrent – A Beginner's guide to BitTorrent downloading
PUBLIC vs PRIVATE – BitTorrent download sites explored
Auto Download Movies, Music, and TV Shows with Azureus
TVU Player gives you FREE Cable TV
Watch Tons of Your Favorite Movies On-Demand for FREE!
Watch The Simpsons, The Office, Jackass, South Park, Lost, X-Men, and More On-Demand For Free
SOULXTC: "walkin' the streets of P2P"