Hey!Watch not only lets you download and convert almost any type of online video clip, but it also automatically generates a BitTorrent tracker so that you can quickly share content with family and friends.
Hey!Watch is a online video clip download and conversion site that has just recently announced that it has added a BitTorrent feature that automatically generates a torrent tracker for each clip that is uploaded to the site.
I must first say that it seems a bit drastic to use the mighty file-sharing power of the BitTorrent protocol to transfer clips that are on average only 5 to 10 MB in size it seems but, when you take into account that the site also offers a wide section of video conversion options it becomes an easier sell.
The available video output formats are as follows:
avi
mp4
3gp
psp
mpeg
mpegts
dvd
flv
svcd
vcd
vob
asf
mov
rm
mjpeg
mpeg2video
3g2
As you can see, the PSP and iPod friendly formats make it an ideal site to quickly and easily grab clips from YouTube, MySpace, Grouper, DailyMotion, and elsewhere, and then drop them into your favorite portable media playing device for playback.
After you have uploaded a clip to the site and selected the desired video output format, a torrent tracker is then generated with which you can pass along to family friends so that they can quickly download it using BitTorrent.
How does it work?
First find a clip you wish to download and share.
Select either TRANSFER ONE or the QUICK TRANSFER link on the right-hand side.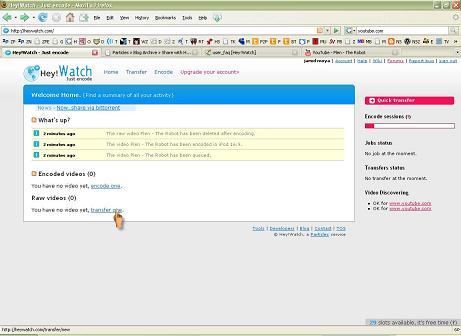 Then enter a TITLE for the clip and the URL where it can be found.
The video will then begin uploading to the site and will appear when finished. You must then select the video and the default video output format with which it be available. Here, in the picture below, I chose an iPod with a 4:3 screen size format. Click the "Launch it" tab to begin the conversion.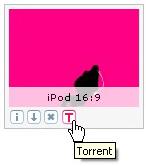 When it's finished converting the video file it will then display all of your available encoded videos. The red-colored "T" is the box you select to download the file using BitTorrent, and where you can get the torrent tracker info to pass on to family and friends.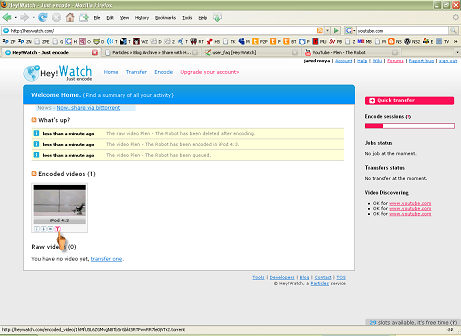 How long is the video seeded?
Hey!Watch says that it seeds a video until it's deleted from the site. After that, "…if you didn't seed the file, it won't be shareable anymore because of the lack of source."
All in all it seems like a great way to download and share online video clips if that's what you like to do. To me it seems much easier to simply send somebody a link and have them watch it on a PC as I do but, then again I don't have a PSP or an iPod.
The really cool thing that it may allow people to do, and I have yet to test it out for myself, is to download some of all the cool TV show clips offered on sites like DailyMotion, and then either convert them for use on a PSP for instance, or share them with others via it's BitTorrent tracker.