The site lets you listen to the tons of concert recordings that the venerable concert promoter Bill Graham collected over his more than 30 years in the music biz, which includes Jimi Hendrix, Santana, The Grateful Dead, and much, much, more.
As always seems the case, a publicized effort to shut down a website has turned people that have never heard of it on to it.
It was recently reported that Led Zeppelin, the Grateful Dead, Carlos Santana, and other legendary rock n' roll heavyweights are suing Wolfgang's Vault for illegally offering thousands of rare audio and music performances for free streaming on its website.
The owner, William Sagan, purchased well-known concert promoter Bill Graham's assets from Clear Channel Entertainment for $5 million USD 3 years ago.
He began streaming the hundreds od audio and video clips that Graham collected over a 30-year period this past November.
Bill Graham's real name is Wolfgang Grajonca, hence the site's name "Wolfgang's Vault."
"Sagan simply doesn't have the legal rights to exploit and profit from the extraordinary success of these musicians," lawyer Jeff Reeves, who represents the artists, told the Los Angeles Times.
"This memorabilia was created in the first place for the purposes of promoting concerts and as gifts for fans and concert crew. Graham himself did not have the right to sell, reproduce or otherwise exploit these materials as a promoter."
"We have never given permission for our images and material to be used in this way," said Bob Weir of the Grateful Dead.
The suit seems straightforward enough, and I tend to agree with the artists but, what sucks is that the archive that Bill Graham amassed is both brilliant and stunning!
Even as write this article I find myself amazed by what they have available for streaming on Wolfgang's Vault.
For example, I live here in San Diego, CA and it's well known that some legendary artists have passed through here over the years but, there's one lesser known venue that's hosted a lot of those artists and has long since been forgotten.
On July 31st, 1974 Carlos Santana played a concert at the Balboa Park Bowl in Balboa Park, and it was amazing. I wasn't there of course, I still had a few months to go before being born but, now I feel like I was. The sound quality is dead on, no hiss, no fuzz, and no background interference.
The track list is spot on too,"Going Home," Black Magic Woman," "Oye Como Va," Incident At Neshabur," "Soul Sacrifice," "Samba Pa Ti," and "Toussaint L' Overture."
To give you an example of what the site has, here's a sample search for The Clash.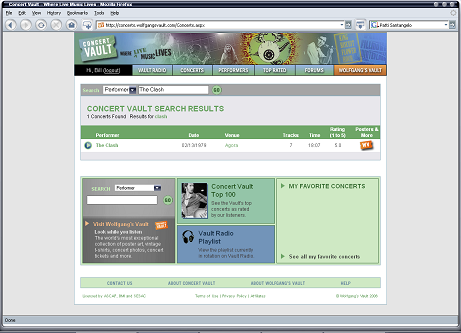 When you select the link to view more about the concert, it gives you more info about the band, the venue, and also the track list for that concert. To play the concert just select the play tab and it will open a streaming window that will play the selection.
If you look at the picture I have of the streaming window up above and to the right, you'll see that it has nome nice, easy to use features and functions that make the experience as painless as possible. You can skip ahead to a different track in the track list or fast forward through and individual song. You don't have to sit through an entire concert if you don't want to, you can stream a few tracks of your choice and be on your way.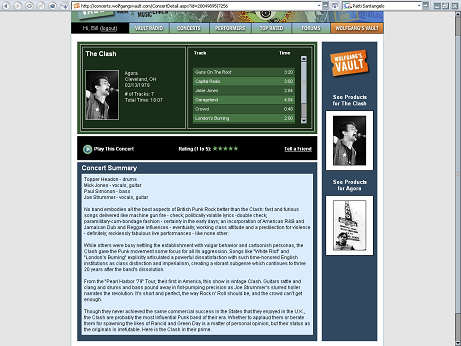 The site has so much content available it's unreal. I'll list a few more of the performances that are available for you here below:
Jimi Hendrix Experience – Winterland: San Francisco, CA 10/11/1968
Led Zeppelin – Fillmore West: San Francisco, CA
01/11/1969
Grateful Dead – Fillmore Auditorium: San Francisco, CA
11/19/1966
Elvis Costello & the Attraction – Philadelphia Spectrum: Philadelphia, PA 08/11/1984
Billy Idol – Malibu Night Club: Long Beach, NY
08/29/1982
Stevie Ray Vaughan – Austin: Austin, TX
04/15/1984 (**Plays an awesome cover of Jimi Hendrix's "Voodoo Chile!"**)
I know my Texas pals Nick and Fagan will dig the last one.
The list really is endless, and the quality of each recording is unreal. It makes for an almost an entirely new way of experiencing the music of some of the greatest musical artists of all time.
Better yet, the artists are in their prime, on their turf, and playing rock n' roll like it was meant to be played – loud, proud, from the soul, and hopped up on pot and LSD. Alright, maybe not the pot and LSD part but, you have to admit that the rock n' roll played back then and the rock n' roll played now are almost as different as night and day.
The only drawback is that you have to register on the site in order to play the music but, it only takes a minute and asks for just your name and e-mail address, that's it.
If you like rock n' roll at all then you have to check out Wolfgang's Vault, I promise you won't be disappointed. Hurry before it's too late.
To learn how to "rip" the audio tracks from site be sure to read "How to Rip Music From MySpace."The guide will tell you how to go about making copies of the audio tracks to save and store on your PC and perhaps even share with others when you're done.