After reporting on the site FineTune, which allows users to play and stream music tracks of their choice for free, I though I'd point out another site that allows you to do the same but, with less hassles and better features.
The site is called "radio.blog.club," and is much easier and more convenient to use.
You simply type in a desired artist's name and let the search engine do all the work.
In addition to the standard streaming feature, you can also embed the songs on your blog, MySpace page, or whatever other site you have access to.
It also has a "Hot Picks" feature that periodically compiles a "day" and "night" mix for you to listen to and hear artists you may otherwise never hear of.
Here's what it looks like.
To show an example of the selection of music it offers I did a search query for the artist "Beck," which I'm sure you all have heard of.
If you take a look at the results, the available tracks are pretty extensive, as it even has the rare track "Debra," which I recommend for all those that have never heard it before.
The search returned well over 8 pages of tracks in fact, making for a diverse and fairly complete listing.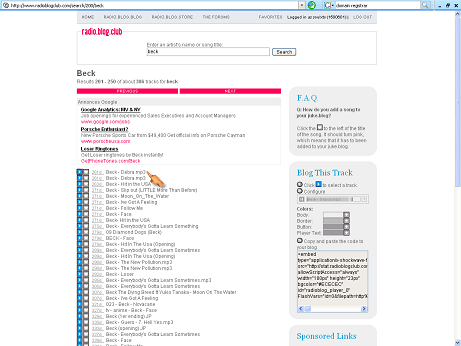 To add tracks to a playlist, you must first register of course. After registering simply select the "heart" icon of the track you wish to add and click "My Playlist."
Returning to the main page and clicking on the "Jukebox" tab, you can see and play the playlist you created.
Yet, the site gets even better.
For those of you with blogs, or MySpace accounts, you can even embed each of the tracks into your site pages. It also allows you to customize the colors of the embedded music player.
If you take a look below I've customized the player's colors and also highlighted the embedding code for you.
All in all it's a pretty cool music streaming site and a little less cumbersome than FineTune.
The ability to embed the tracks on private sites and pages makes it all the much nicer.
CLICK HERE TO CHECK OUT RADIO BLOG
LOOKING FOR MORE NEWS or "HOW TO" GUIDES?
How to Rip Music From MySpace
How to Download Videos From YouTube and MySpace
"FineTune" lets you play and hear any song you want for FREE
Watch The Simpsons, The Office, Jackass, South Park, Lost, X-Men, and More On-Demand For Free
vNES: play Nintendo games in your internet browser
TVU, Free P2P Cable TV
SOULXTC: "walkin' the streets of P2P"