Sure the Azureus BitTorrent client server has plenty of plugins available but, uTorrent also has one of more the important ones available, an RSS Feed Downloader. The beautiful thing with it is that it comes pre-installed in the latest version of uTorrent. It is what will allow you to set up uTorrent to automatically download any type or title of file you desire, be it an album, a movie, or a software program.
It's pretty simple to get it set up and running, the steps to which I'll cover for you here.
The first thing to do is make sure you have the latest version of uTorrent.
Then we need to find an RSS Feed with which to load in the downloader. There are many public and private torrent tracker sites that offer an RSS Feed to use. To make things easy and avoid the need for any site registration I will use one from a public torrent tracker site to get us started.
The picture below shows where to locate the RSS Feed on TorrentSpy, a public torrent tracker site. Simply "right click" RSS Feed and select "copy link location" to save it on your clipboard. You can also cut and paste a copy of the feed I placed here for you.

Now open uTorrent and select "RSS Downloader" from the OPTIONS tab.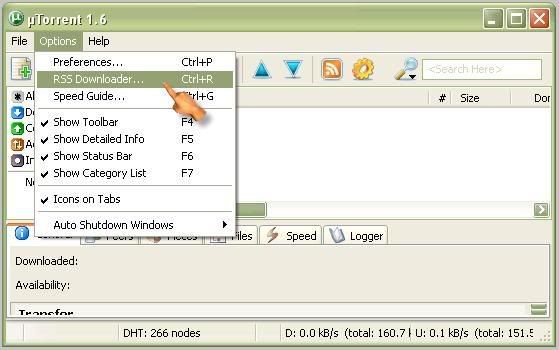 This will open up the RSS Downloader menu. Click the "Add" tab and then paste the URL of the RSS Feed we copied from TorrentSpy. Then click "OK" to finish.
To set up the RSS Feed and customize what we wish to download, click the "Favorites" tab. Then select "Add" and choose a name for the new filter. I chose TV Shows as you can see. Decide what you want to download, be it CSI, ER, whatever, and also what you don't want so as to narrow the settings (i.e. no New York for CSI). Pick a folder to save these files in, and then what Feed it is that this filter is for. "Quality" is the final choice, in which case I chose HDTV. The rest of the features are really nonessential but, as you get the hang of this can you can go back and set them up.
Once you enter the details of the feed and filter it will automatically begin to scan the selected feeds for the filter settings you selected. When it finds a match it will then download the torrent tracker and load it into uTorrent for actual file retrieval.
Well, that was uTorrent RSS Feed 101. As I mentioned before Azureus has this feature as well, a guide for which can be found here at Zeropaid. In addition, we also have an extensive list of torrent tracker sites available for you to check out.