For those of you who don't already have Google Homepages, now's the time to signup and create one. uTorrent has recently released a great new widget for the Google HP that allows you to monitor your uTorrent downloads while you're reading the daily headlines or playing that great Pac-man game they have available on there as well. It's quick and easy to install and I'll go over how to the setup with you here in this article. Now you never have to leave your BitTorrent downloads unattended, plus it just looks darn cool.
The first thing you need to do is download and set up the WebUI (Web User Interface) plugin if you haven't done so already. For those that haven't, I wrote a guide previously called "Controlling uTorrent Remotely: a Beginner's Guide" that tells you just what to do.
Controlling uTorrent Remotely: a Beginner's Guide
So after you have the Web UI plugin installed and set up correctly, log in and open up your Google Homepage. If you don't already have a necessary g-mail account to do this have no fear. Simply go to the BitTorent Site Invite Trading Post in the forums here at Zeropaid and ask somebody for one. There's a ton of people out there who have them and are always willing to give them out.
On your Google Homepage select "Add more to this page."

Then select "Add by URL"
In the box paste the following URL:
http://river.hidden.googlepages.com/uTorrent.xml
After clicking the "add" button of course, return to your Google HP. You should then see the picture below.
What we need to do now is configure the widget so that it will then display the torrent trackers currently loaded in the uTorrent client server.
In the "Address" box you will enter your IP address. If you are unsure what it is go to the IPTools website and it will tell you your address.
The "Port" box is for the port you currently have open as the listening port for incoming connections to the uTorrent client server. You can find it under uTorrent's "Preferences" tab as shown below.
Lastly, for the "Guest username" type in the username you previously chose to use with the Web UI plugin
When all is said and done you should have all the information entered as shown in this picture below.
Once you're done just click the "Save" button to proceed.
You will immediately get a prompt from uTorrent asking you to login. This is the username and password you selected when you previously set up the Web UI plugin.
Then presto the widget will load the torrent trackers you currently have running in uTorrent.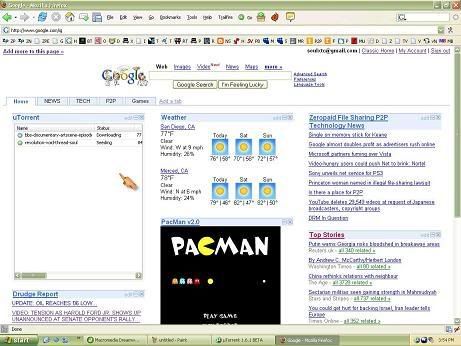 The cool thing about this plugin is that it could allow you to monitor the status of you uTorrent downloads from work or school in a fairly easy and convenient fashion.
This is definitely a Google HP widget that is a must have for all of you BitTorrent users out there.