Easy step-by-step guide that will help you start downloading movies, music, TV shows, and more in no time at all.
The subject of much debate between those who regularly use the BitTorrent P2P protocol is what the best client server to use is.
Three are those who swear by uTorrent with it's low memory footprint. In fact, a recent survey claims that uTorrent's nearly 3 times as popular than Azureus for precisely this reason. Of course, there also those that swear by Azureus with it's numerous features and plugins that that make it a choice for users with enough RAM and CPU to spare.
Either way, the guide below will take you through the Azureus setup process and beyond.
TABLE OF CONTENTS:
To start, download and install the latest version of Java RE. Azureus needs this software to function properly.
Then download and install Azureus itself.
Now change the desktop view of Azureus to make installation easier by pressing CTRL +1 as pictured below.
It should then look like this…….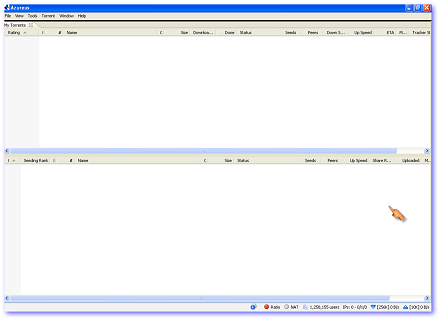 PORT CONFIGURATION AND TESTING
Now if your operating behind a router, please check out our guide on PORT FORWARDING. Briefly, Port Forwarding is basically opening and establishing a dedicated or open port for the Azureus to use for downloading and uploading data to and from other BitTorrent users.
First select NAT / FIREWALL TEST from the main TOOLS tab.
This will bring up the NAT / Server Port dialogue box. This box will allows us to both select and test a port for Azureus to use. Remember, the range of recommended ports to use is from 49512 to 65535, and the selected port must be forwarded if operating behind a router. As you can see in the picture, I went ahead and used port 49513 to make it easy and then TESTED it. Since it came back "OK!" I then APPLIED those settings.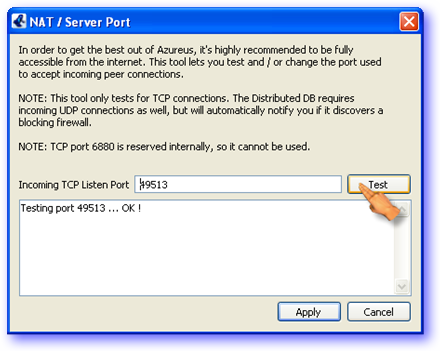 It's that easy.
When you finally use Azureus to download files, you'll find that this NAT / Firewall test is truly important. If you've properly set up your port configuration you will almost be guaranteed to see the magic "green face" alongside each download that "means everything's going fine." You'll smile as long as it smiles, keep that in mind.
This may seem pretty basic to some, but you wouldn't believe how many people I've come across who can't figure out where the heck their downloads are.
First select OPTIONS from the TOOLS menu.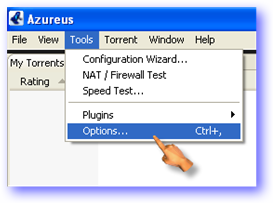 Then scroll down to FILES and edit the "Default Directory" folder. It has an additional option for moving completed files to a separate location if this suits your needs as well.
To optimize your download speeds you must first do a SPEED TEST to determine your connection speed. Select SPEED TEST from the TOOLS menu.
Now test your upload speed as shown below. Remember the number shown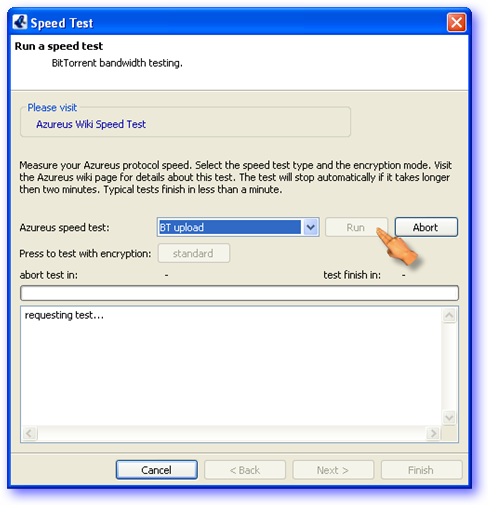 Then select CONFIGURATION WIZARD from the TOOLS MENU.
Keep selecting NEXT until you arrive to the type of user prompt. Select ADVANCED and then press NEXT.
Lastly find your corresponding upload speed from the SPEED TEST and select NEXT.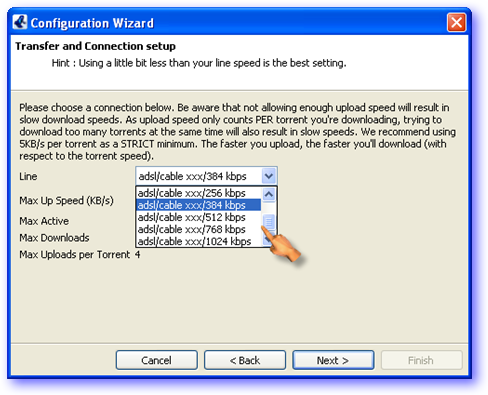 That's it. You're finished. Congratulations.
I'm All Set Up, Now What Do I Do?
Check out our extensive list of BitTorrent tracker sites for the latest and greatest in download sites. Also, I suggest reading our story on Private versus Public Tracker Sites to get an idea of what to expect from each.
First you need to find what's called a BitTorrent tracker site, it's a site which has the actual torrent files that allow users to connect with one another and share data (CLICK HERE FOR TERMINOLOGY).
In the picture below I use the LegalTorrents site since I show actual downloading and wish to of course comply with copyright laws. As shown I selected the download arrow in order to download the torrent file and thus the corresponding content.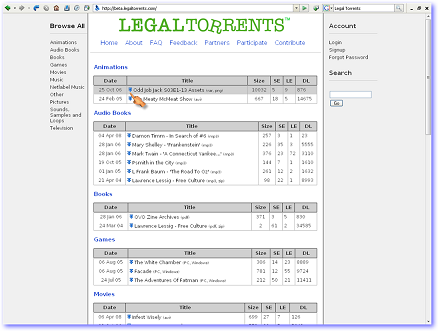 The files should then appear in Azureus and begin downloading.
For a more honest representation, here's how it would look if you wanted to download content from The Pirate Bay, the world's largest BitTorrent tracker site.
Using "Star Wars" as the search query, I selected a Star Wars e-Book to download.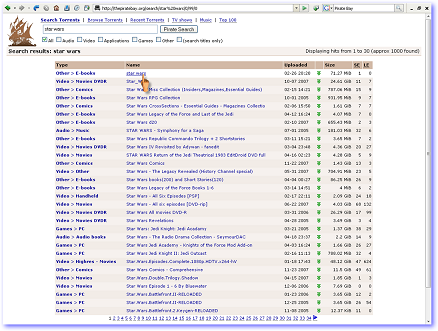 Then simply select the file and then DOWNLOAD THIS TORRENT.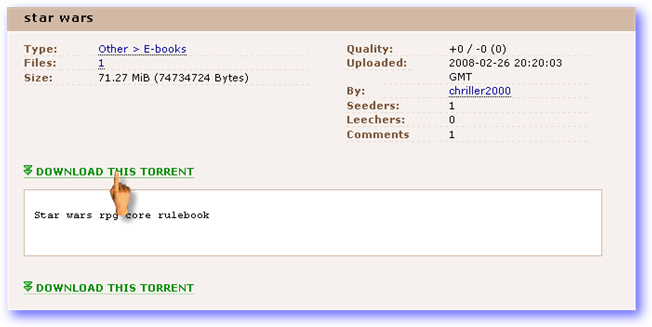 Easy enough right?
How Can I Speed Up My Downloads?
Try using BitTyrant if you're suffering from slow download speeds and you've exhausted all other options as mentioned in the guide on how to Improve Your BitTorrent Download Speeds. It's basically a modified version of Azureus that promises to increase your download speeds by up to 70% on public tracker sites compared to regular versions of Azureus.